Athlete Biography: Emma Garrard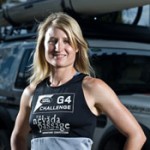 Name: Emma Jane Garrard
Hometown: Anchorage, AK
Resides: Truckee, California
College: University of Nevada, Reno.
Height: 5'5"
Weight: 120
Birth date: 6/11/81
Years Elite: 1
Final XTERRA USA ranking: 11th
Web site: www.emmagarrard.com
Born June 11, 1981 in Alexandria, Scotland to parents Dick and Jane — spent childhood in Jakarta, Indonesia; moved to the U.S. (Texas) at age 11. Was introduced to sports like field hockey, soccer and surfing at a young age thanks to parents and older brother Ross; graduated with honors from the University of Nevada, Reno (photography, journalism) …Is a freelance photographer and writer in the Truckee-Tahoe area and helps coach junior Nordic Skiing and Girls on the run.
Athletic Background: Competed in cross-country running, cross-country skiing, soccer, tennis and track at Robert Service High School in Anchorage. Was on the state championship ski team in 1998 and 1999 and Junior Olympic champion team in 2000.
Competed in NCAA Division I cross-country running, cross-country skiing and track and field at UNR …Was All-American in cross-country skiing and school record-holder for the 3,000-meter steeplechase. Was the cross-country team captain in 2002 and 2003. Competed at World University Games three times in cross-country skiing.
Triathlon background: Did my first triathlon at age 14 using a mountain bike in a sprint road triathlon, guess XTERRA was just meant to be …Did not get back into the sport until 2005 …Competed in my first XTERRA race in 2006 and won the 2007 XTERRA USA amateur championships …Was also USAT All-American in 2007 …Started racing pro in 2008 with several top-10 finishes in the USA pro series and 13th overall at XTERRA World Championships.