Tahoe Adventure Challenge
Saturday August 17, 2024
Lake Tahoe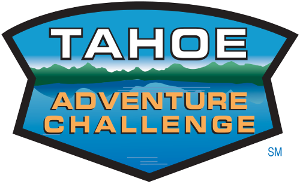 The Tahoe Adventure Challenge California's longest running Adventure Race and a multi-sport event in which teams and individuals participate and compete in kayaking or stand up paddling, mountain biking, trail running, and navigation. Designed such that participating teams will complete in an 8 hour maximum time. Teams travel on land and lake to gather as many checkpoints as possible and finish within the 8 hour time limit.
However, don't take the Tahoe Big Blue lightly as the event starts out at 6200' and heads up to 9000' and will include challenging and steep terrain.  No matter how long your adventure takes we promise to greet you with a smile as you cross the finish line and provide you with a festive post race party, food and beer.
Defined by both the incredible beauty of Lake Tahoe and the towering peaks of the High Sierra, North Lake Tahoe is one of the world's most famous sporting playgrounds. The "North Shore" has an almost endless variety of spectacular mountain biking trails, adventurous hikes and, of course, waterborne activities on the "Big Blue" – Lake Tahoe – one of the largest, deepest and purest alpine lakes on earth.
The Tahoe Adventure Challenge is a celebration of the natural environment of the Sierra and Lake Tahoe. August is a favorite month of Tahoe locals… and no wonder: daytime temperatures are in the 80's with the evenings cooling into the 60's, the skies are deep blue with only an occasional afternoon thunderstorm rolling through (to help keep the dust down on the trails!). This is a perfect time for a visit to the Big Blue.
| | | | |
| --- | --- | --- | --- |
| Fees | By 6/30 | By 8/17 | Onsite if Available |
| Solo | $160 | $170 | $180 |
| 2 Person Team | $310 | $320 | $330 |
| 3 Person Team | $460 | $470 | $495 |
Processing fees not included in the above pricing.
Included with registration:
Event T-shirt
Food, cold beverages
Awards
Finisher Medal
Medical Staff
Maps
Friday August 16
Time
Item
Location
3:00-7:00PM
Race Check-in and Registration if not sold out
TBA
Saturday August 17
Time
Item
Location
6:30-7:30AM
Athletes arrive & check in
TBA
6:30-7:30AM
Kayak and MTB staging
TBA
7:15 AM
Race briefing TBB
TBA
7:30 AM
Race Briefing Maps & rules distributed
TBA
8:00 AM
Tahoe Adventure Challenge Start
TBA
8:45 AM
First kayaks/sups return
TBA
2:00PM-4:00PM
Finishers
TBA
4:15 PM
Post Event Party
TBA
All competitors to carry the following at all times:
All items listed below are to be carried by each competitor at ALL times.
Backpack with our without water bladder
Water
Nutrition
Whistle
Fleece lightweight long sleeve top
Waterproof top outer layer, jacket or shell
Hat, with visor
Protective eye wear
Mountain Biking Equipment:
Mountain Bike
Helmet that meets the ANSI or Snell safety standards
Bikes Gloves
Bike tools including; patch kit, pump/CO2, inner tubes, chain tool, allen keys, and tire irons. Ability to fix a flat!
On Water Equipment:
Kayak(s) Stand Up Paddle Board(s), enough for each team member. Any arrangement of kayaks (solo or tandem) is OK.
P.F.D.   US Coast Guard approved Life Jacket
Leash for SUP's
Paddles
Teams
All Teams including Solo competitors to carry the following:
Compass
Small First Aid Kit
Recommended Gear:
Additional "dry" racing garments
Bandana-face mask
Eye Drops/wash
Straps/bungee
Sunscreen
Towel
Waterproof map container/holder
The 2024 TAHOE ADVENTURE CHALLENGE is an 8 hour race. Competitors have a maximum of 8 hours to complete the race. The idea is to earn points by visiting the checkpoints throughout the course area within the 8 hour time limit. Other than the kayak/sup, which will happen at or near the beginning of the event, other checkpoints are open format. Meaning not a liner course. Race rules, maps, checkpoint information (locations, etc.) will be distributed the morning of the event. Teams will have some time prior to the race to determine a plan of attack. To finish, teams are required to reach the required checkpoints which will include paddling, mountain bike and on foot checkpoints.
The course area features North Lake Tahoe. Specific locations will be provided to all registered and disclosed closer to the race date. Lake Tahoe's elevations starts at 6250′ above sea level.
Kayaking or SUP, You Choose
7-8 miles approx.
Sandy beach put-in
Water clarity to 65+ feet
Beautiful shoreline
NOTE: If you need to rent a kayak or SUP, please email or call! support@bigblueadventure.com 530-546-1019
Navigation, Map & Compass
We provide you with Topographic maps that describe the shape of the land. They define and locate natural and manmade features (forests, creeks, rivers, canyons, buildings, bridges.) They show the distance between any two places, and they also show the direction from one point to another.
Distances and directions take a bit of figuring, but the topography and features of the land are easy to determine. The topography is shown by contours. These are imaginary lines that follow the ground surface at a constant elevation; and can provide information on the natural form of the land around you.
Mountain Biking
24  miles approx.
Single Track, Double Track, Fire Trail
Fast, A little of everything No speed limits
3000' approx. altitude gain
On Foot, Trail Running
5-8 miles approx.
Single Track
Fire Trail
Sand
1000′ approx. altitude gain
Tahoe Adventure Challenge Rules:
These Rules are designed to set forth standards in which athletes can participate and compete in a positive, fun and fair atmosphere. These Rules are intended to promote and maintain sportsmanship and to protect the health, safety, and well being of participants.
General:
Event Management reserves the right and authority to alter or change the course, route and stages of the race/event at any time do to a real or perceived threat to the safety of the participants.
Non-support:

The race is a non-support race, all event related activities from registration, staging, racing, etc., are to be completed by team members only.

Racing Bib:

All competitors must wear the official Racing Bib, from start to finish.

Gear Checks:

Teams may be randomly subjected to a gear-check and it is the teams' responsibility to oblige the Race Official in a timely and civil manner.

Hydration/Nutrition:

All participants are required to be self-sufficient and therefore you are responsible for your hydration and nutrition.

Course-Route

Competitors are required to follow the course-route when designated.

Garbage/Trash:
Cut off time:

Cut off times will be enforced.  Cut off locations and times will be provided to your team prior to the race start.  A Race Official will notify any team that reaches a cut-off location after the official cut-off time.  The Race Official will determine if a team may proceed as an "unofficial finisher" or be requested to return to the Start/Finish area.

A teams' finishing time will be the time from the Official Race Start to the time all team member cross the finish line. Official scoring may result in additional time added to the finishing time if time penalties are assessed.
Passports:

Each team will be provided with a Passport.
Passports to be presented to Race Officials upon request.

Check Points (CP's):

Competitors will travel from CP to CP requiring navigation, orienteering and route finding skills.  Teams are required to present their Passport to Race Officials when appropriate. CP's must be acquired as noted in the Passport Instructions. There will be both manned and unmanned CP's.

Be safe
Have fun
Water:
You are required to wear Coast Guard approved P.F.D. "life jacket" at all times while kayaking. You are required to have a Coast Guard approved P.F.D. "life jacket" and wear a leash at all times while stand up paddling.
Team Rules:
Team members must stay within 100 meters of each other throughout the event.
Time Penalties:
A time penalty may be imposed for a violation of any of the event Rules. In the event that a team is assessed a time penalty, the time penalty shall be served by the Team prior to crossing the finish line. Time penalties shall be cumulative and a team may be assessed more than one time penalty for violations of the same rule.
Teams missing a CP will have the opportunity to acquire the CP prior to finishing.
Penalty times range from 10 to 120 minutes.