Athlete Biography: Sean Clancy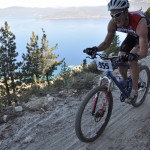 Growing up in the small town of Long Beach, Indiana on the shores of Lake Michigan, I began running competitively in 8th grade on my school's cross country team. I was the slow guy, but I instantly developed a love/hate relationship with the competition and the game of increasing my fitness through proper training. For better or worse, that heart-breaking love affair continues to this day.
As a scrawny and awkward (6'2, 148lb) kid, I continued to run cross country through high school (as the "slow guy", still), and added cycling and triathlon by age 15. I was usually last or near-last on my team, lucky to crack 19:30 for 5k. The fast guys on my team like Todd Braje were around 16 flat. While I was frustrated that I didn't have the same fitness as a teenager, I did have a sheer enjoyment and appreciation of everyday training along the beach or the trails of Dunes State Park. Perhaps this was the endorphins kicking in, fighting off the depression I had dealt with on an off for several years growing up.
I fortuitously realized the meditative qualities of silent running, swimming and cycling and began devouring any information I could find on the training methods of Mark Allen, Scott Tinley and Arthur Lydiard. I might have been slow, but I knew if I continued to make deposits into my aerobic base "account" for a few more years I would grow stronger, adapt and hopefully make some withdrawals later! I wasn't sure how or where that would happen, but I had found a true calling in endurance sport.
While competing in shorter-distance triathlons I learned of the ultramarathon world from my high school coaches Hal Higdon (of Runner's World) and John Ryder, who competed nationally in 100 milers and 24 hour runs. At the same time, a neighbor of mine, Rico Riley became a successful low 9-hour Ironman triathlete, competing in Nice, France, New Zealand and Kona. While my neighbor was a far superior athlete, he was still human and someone I could relate to. At that point that it all became clear that the people I had been reading about were human beings, just very strong, goal-oriented and disciplined.
I though to myself: "If Rico can do it, why can't I?"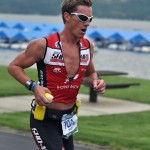 After learning more about ultra-endurance events, I naturally wondered how far the human body could go, specifically my own. I may have been a bit frustrated as a runner but was increasingly passionate about cycling and developed the "necessary obsession" as Scott Molina would say to put in the miles and hill repeats. I read about Yiannis Kouros's astonishing records in the ultrarunning world and realized the known limits to the human body were far beyond what I had imagined and were constantly being re-calibrated. I was inspired by Greg LeMond overcoming a shotgun blast to win another Tour de France and watched young phenom Lance Armstrong attempt to usurp the throne.
Coincidentally I also stumbled across news stories of the (original expedition adventure race) Raid Gauloises events in New Caledonia, Oman and Madagascar in 1991-1993. As a short-course triathlete I was morbidly curious about competing in Ironman and maybe even adventure races. Did I have what it takes to win-or even finish-one of these brutal events? Were these 'adventure races' only for the ultra-rich? If not, how is it possible for people to afford to compete? This was years before adventure racing would make it to the USA, and in northwest Indiana I had never even seen a kayak, rock climbing gear or an actual mountain for that matter. The lure of adventure, exploration, competition, camaraderie and even self-realization was strong.
In 1995 I joined the US Navy to attend SEAL training, which seemed like a career that would allow me to pursue my interests of joining an elite team, world travel, learning unique skills, and maintaining a high level of fitness while pushing my body and mind to their limits….And of course meeting women, let's be honest here!
When an injury prevented me from making it through SEAL training's Hell Week, I was sent to Hawai'i to finish the last 3 years of my enlistment. While my special operations dream was painfully crushed, it turned out to be quite easy to make lemonade out of lemons while living on the north shore of O'ahu. I went to school full-time, worked full-time and trained for triathlon full-time. (Sleep was the odd man out!) I was able to take my running and cycling to new levels while training on the steep roads and pineapple fields every day and night. Additionally I began rock climbing in Mokuleia as well as kayak paddling around O'ahu. Fortunately I met other climbers who brought me up to speed and there were several local outfitters that offered boat rentals and proper paddling technique advice.
While stationed in Hawai'i I was re-introduced to adventure racing by recently retired Army Delta Force operator Ed Bugarin, who had competed in the 1996 Southern Traverse. Ed was putting on his own adventure race on O'ahu, the 12 hour Dusk 2 Dawn in the summer of 1997. I competed with two fellow Navy endurance athletes, finished in 5th place (after getting terribly lost near the Tantalus trail which we ironically knew well) and was instantly hooked on the sport.
A few months after Dusk 2 Dawn, Ed invited me to compete on his team at the spring 1998 Desert Winds in Arizona. My teammates included the British orienteering champion and Southern Traverse veteran Peter James, the World Quadrathlon champion from Germany (2x, who was also the world record holder for 24 hour paddling and who had been trained by East Germany Olympic development and also raced with Eco Internet, the world's greatest team-later morphing into what is now Nike) Andrea Spitzer. Needless to say, I used this opportunity to pick the brains of these experienced champions, memorizing their secret training techniques and racing tactics.
Since 1997 I have been fortunate enough to adventure race all over North America as well as places like Switzerland, Austria, and Germany. Along the way I have had some fantastic teammates who have become lifelong friends. In 2008 my team nuun-SportMulti was able to go undefeated in 8 races ranging from 24 hour events to expeditions such as Baja Travesia and Moab Adventure X-Stream. We were able to sweep and win the CheckpointZero series and win the USARA 24 Hour national championship in Blue Ridge, Georgia. As a team we took our teamwork and tenacity to a new level and with a bit of luck here and there it paid off.
In addition to adventure racing, over the years I have also continued to compete in running, cycling, mountain biking, paddling, and Ironman triathlon events as well. Occasionally I will coach a few endurance athletes at a time, mainly triathletes or adventure racers who would like to take their racing to the next level. I am a passionate life-long student of both exercise physiology and nutrition, which I find to be necessary to compete at the top level.
I have competed in two excellent Big Blue races, the 2008 Lake Tahoe 24 Hour Adventure Race and 2009 XTERRA Lake Tahoe. Both were unforgettable racing experiences. The Lake Tahoe area certainly stands out as one of the premier venues in the world for endurance racing of any kind. The swimming, paddling, cycling, trail running and hiking are on par with the best in the world. If you do plan on racing in Lake Tahoe, make sure to take an extra day or two of vacation after the race to check out the jaw-dropping spots such as Vikingsholm castleat Emerald Bay. You will regret it if you don't, I promise!
See you at the races!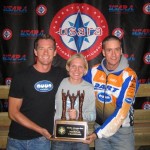 Sean Clancy
www.clancymultisport.blogspot.com
www.dartadventure.com