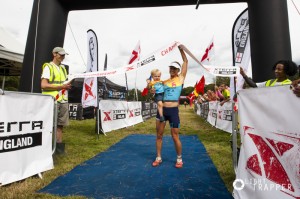 Spring has sprung. Now it's time for you to leap off the couch too! As the sun sets after 7 p.m., we've got no excuse for not getting in that workout in after work, right?
The truth is, most of us are just now starting to think, and act, on our early season (or mid- depending on where you live) training.
Here are a few tips to get you in shape for the race season that's just around the corner.
• Get in the pool:

If you are a triathlete, now's the time to get in the pool—regularly. I can't emphasize enough the importance of regular swim training. Swimming two days a week is enough to maintain, three and you will see improvements in your stroke. Check times for local masters' workouts. Most public pools have these and/or swim clinics if you want to make more progress.
• Pre-first race race:
Chances are you're not ready to race yet but that doesn't mean you can't race. One of the best ways to get motivated to race is to actually race. It may be more painful than when you're in your prime but it's a good way remember what it's like to race. Individual discipline running, cycling and mountain bike races start earlier in the season than adventure races and triathlons, so it's good to get one or two under your belt. Plus these races are often shorter, so you only have to suffer for a fraction of the time. A good race to do would be a flattish 10k running race, do one again mid-season and you will feel very rewarded by how much you improve.
• Make sure your equipment is ready to go:
Chances are you didn't get your bike tuned after the last race of the season and it's been sitting in the garage with traces of Maui mud. Get it cleaned, lubed and tuned up at your local bike shop. Also check the tires for any wear and tear, that winter air is dry.
If you're one of the lucky ones who has a new bike this season (what recession?!) now's a good time get the bike properly fitted so you get your money's worth.

•Time to break in that new pair of running shoes:
I can't emphasize the importance of wearing not-worn-out shoes so if you haven't got a new pair for the upcoming season, do it today. It's a great way to get you on the trails.
• Wear that wetsuit:
Take your wetsuit to the pool (or to open water if it's warm enough where you live) and swim in it for about 20 minutes to remember what it feels like. It takes more upper body strength to swim in a wet suit. Do this a few times before your first race.
• Make a plan:
Now's a good time to decide what races you're doing this season. Prioritize the races as A (most important) B (important) and C (least important). Pick one or two races as 'A' races and focus your training on these races.
• Be patient:

Trying to do too much too fast can lead to injury. Remember, it's a long season. Ease into training. Build a good base. Make it fun and results shall follow!
See you on the trails!
Emma Garrard, XTERRA Pro